Imagine yourself going back over 2000 years ago, finding yourself in the Passion of  Christ in a Qormi countryside square. In the middle there is a sanctuary dedicated to Our Lady of Tal-Ħlas. This project is intented to create and atmosphere and visual representation of what it was like to live in the times of the passion of Christ.
At 6:00pm the programme will start by a mass celebration. Afterwards the Way of the Cross Musical with the name of 'Ħlas – Ikun Li Trid Int' will start. A 50 minute representation which will include a Roman march, Jesus in Gethsemane, the betrayal of Judas, the trial of Jesus, the denial of Peter, Jesus judged by Pilate, scourged and crowned with thorns, the way of the cross,  helped by Simon of Cyrene, the crucifixion of Jesus and thieves, Jesus death, the sorrows of Mary and the Resurrection of Jesus. In the square there will also be several Maltese trade stalls and also food and drink stalls. All this will be surrounded with fire torches illuminating the area. Among several singers taking part there will be Victorio Gauci famous for his band 'The Crowns', Corazon, Joe Farrugia from the Cyclone band, Ishmael Grech and Mirko Bugeja.  This way of the cross is originated from the 80's hit Ikun Li Trid Int of Manuel Mifsud and Therese Cassar with new adaptations by Giovann Attard and recordings  by Augusto Cardinali.
There will be 3 representations  to suit all those who attend at different times with the last representation starting at 9­:30 pm.  Those who are going to attend must come at Triq l-Gharghar 1979 in Qormi St. George area near Wied is-Sewda as there are going to be free mini bus shuttles (park and ride) to take you to the location. One can also come from the Zebbug area known as 'Tal-Kuncizzjoni'. This is a free entrance activity. Those who are going to attend are going to be part of the performance not only spectators. For more information one can visit the Ħlas – Ikun Li Trid Int Facebook page.
Produced and presented by Għaqda Qawmien AD 1999 with the collaboration of Qormi Local Council and endorsed by Valletta 2018.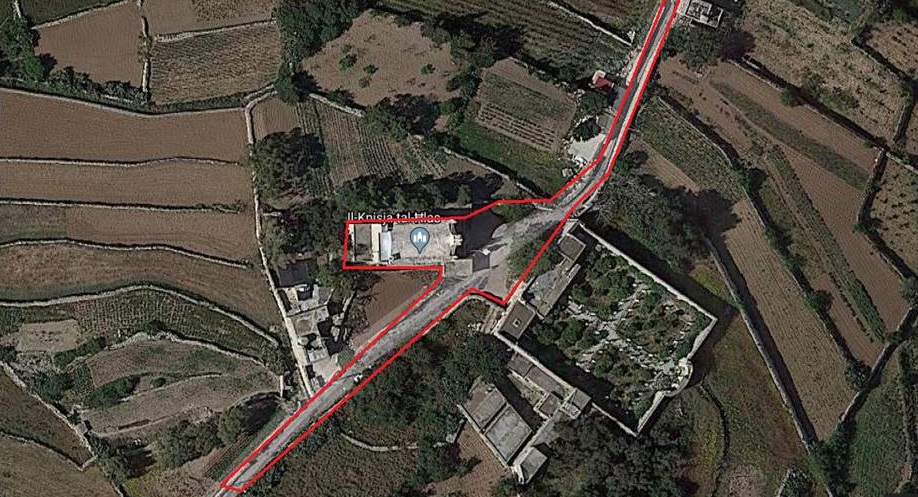 The marked area above is where the activity will be taking place. It is situated at the outskirts of Qormi, limits of Żebbuġ.