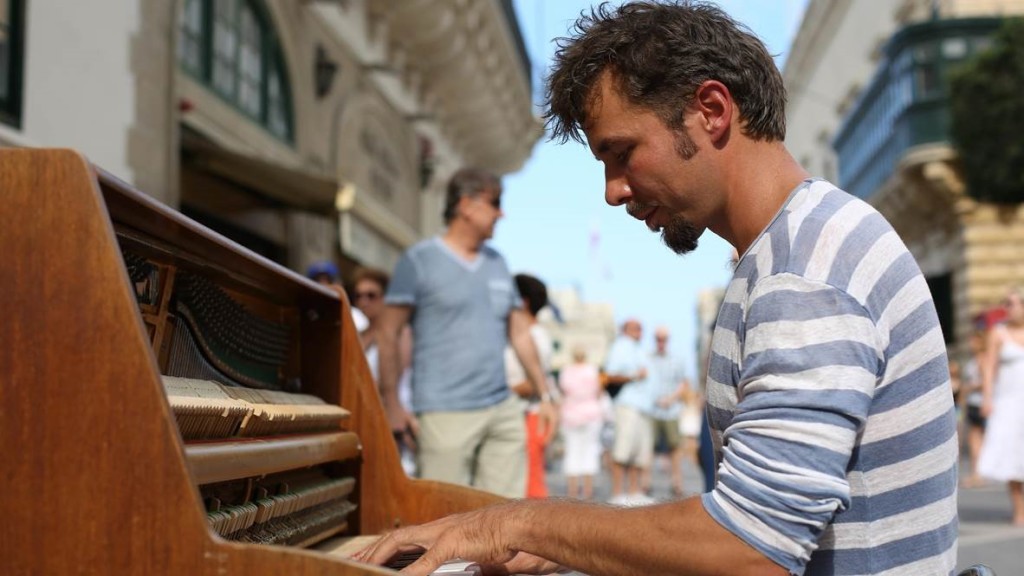 The streets of Valletta are flooded with music of  talented artists who captivate people going about their business whether they're tourists, people out shopping and others on their lunch break. One of these musicians is Szilárd the pianist who is featured in the Valletta 2018 video 'Valletta is My Orchestra' . You've probably seen Szilárd wheeling his piano around Valletta or playing it at Pjazza Regina, with crowds of people close by watching on.
Originally from Hungary, Szilárd moved to Malta after his business folded because of the European recession. His friends had recommended moving to Malta, and he's so glad that he heeded their advice. He started busking a while back. "Some years ago, I had a spontaneous try at busking when – coming from a practice with my double bass on my back – I joined two homeless musicians in a subway in Budapest. It remained a sweet memory – we clicked together so well that we received an invitation to a festival straight away."
When he came to Malta, he started busking with a guitar and harmonica. At first, he needed a friend to sit next to him on a bench while he played as he wasn't very confident, but the appreciation he received was overwhelming. This encouraged him to busk at different areas around Sliema, Valletta and Marsaxlokk. "After a summer of guitar busking I purchased an old piano in September 2012, the rest is history, as they say."
Busking is a very rewarding job, according to Szilárd. "The constant appreciation, compliments and positive energy that I get from people is probably the most important factor. The smiles and taps on the shoulder, the moments when a group stands around me, sometimes singing along, other times dancing, the kids staring at the moving hammers… A particularly touching moment is when I play an old tune that even I don't remember how I happen to know and elderly listeners come to me, choking back tears, confessing that the actual song was the one played at their wedding some 50 years ago or the song was their father's favourite."
It's a great opportunity to meet fantastic singers and different people from all walks of life, hailing from different parts of the world. They leave Szilárd heart-warming compliments written on the back of their coffee bills, thrown into his hat with some coins. Busking has also given him self-confidence when it comes to music, allowing him to perform anywhere at any time without any fear or hesitation.  It's taught him to be present at all times, to really focus on what he's doing; whether he's playing in a crowded restaurant or to one person in an empty street. "If I fail to keep up the 'stimulus level' people just walk away. On the contrary, they also feel when the music comes from the heart. Some people can forget about the rest of the world, Grandmaster's Palace included, and stay listening for hours. I found the love of my life through busking."
During his stay in Malta, Szilárd has also built up quite the collection of pianos. The one he rolls into Valletta every day is his third which he purchased from a piano shop in Żebbuġ. The first two were off Maltapark.
Earlier this year, Szilárd released a CD , compiled with beautiful piano tracks that he performs in the streets. "People enjoy it; I already had an order from the Isle of Man."
Szilárd will continue to play in Malta for the foreseeable future, lending his musical talent to the streets of our capital.